We live in the world of technology and instant streaming. It's amazing that we can see and talk to people on the other side of the world with almost no delay. I recently came across a couple of live streaming websites where your students can observe nature and wildlife from locations around the world. Many of our students may never have the opportunity to see the great barrier reef or go on an African safari- but that doesn't mean they can't enjoy looking at the animals from afar! I've created a list of a few websites where students can observe live streaming from some pretty cool places: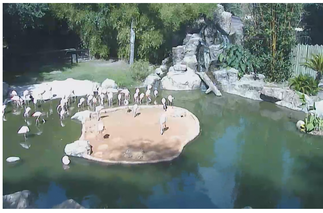 2. Deep Sea Exploration: Head over to
http://nautiluslive.org/
to see real time deep sea exploration! Students can even type in questions and organizers are willing to skype with your classroom!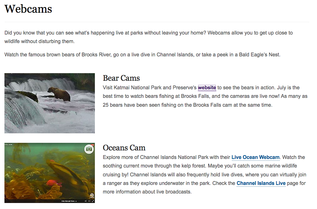 3. National Park Service: This website has links to some webcams within some of the
US National Parks
. (Many of these are also available on explore.org, so you may just want to start there).
4. Explore.org: Out of all the websites,
explore.org
is probably my favorite. You can click on tons of animals and it will take you to a live streaming location. Sometimes you won't see much, but that is the nature of it being live. It will recommend which animals are most active and has highlights you won't want to miss.
5. The ISS: Teach astronomy or have some future astronauts in your class? Have them observe a
live stream
of astronauts living on the ISS!
Ideas of how to use these websites:
1. If you are teaching a lesson on making observations, have students observe the animals, write down behaviors they see and make inferences about their lifestyle or habitat.
2. Are your students quietly working on an assignment? Many teachers play background music. I personally struggle with this, because I'm one of those people that has to have it quiet in order to focus. Instead of playing music, try putting up a webcam on the screen. It allows students to take small mental breaks to observe the animals, and is also gives the early finishers something to do instead of pulling out their phones. It's a great classroom management tool.
3. If you are teaching about conservation or sustainability, put up a webcam and discuss why animal conservation is important and the ethical implications of zoos.
4. Don't have the money to take your students on a field trip? Use these sites as a "virtual field trip." They can see a national park from your classroom!
I hope you enjoy these sites! I've wasted my prep hour a few too many times by sitting and watching animals! Enjoy!