...and I'm here to help you rock your science classroom!
I've been teaching science over 15 years in Arizona. I'm here to help you save time on all that lesson planning and internet scouring by providing you with ready-to-go lessons and new innovative ideas.
If you teach secondary science, you are in the right place!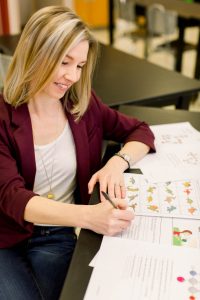 Are you exhausted from teaching multiple preps? Stressed from trying to plan labs with almost no equipment or lab budget? Struggling to keep students engaged? I see you, and I've been right there with you. I spent the first few years of teaching scrambling to grade everything, searching the internet for new lab ideas during my lunch and prep, and staying up all night creating PowerPoints for the following day. It's not sustainable.
The good news is, I can help!
I've put my heart into this blog in the hopes of providing you with a round-up of teaching strategies, lab how-to's, assessment tips, and helpful websites. I want you to spend your prep hour getting ahead, not feeling like you are falling further behind.
Who is the face behind Science Lessons That Rock?
I'm an Arizona native who loves to be outdoors. I love that you can be in the dry hot desert of Phoenix and drive 2 hours north and be in the snow and pines of Flagstaff. Arizona has so much to offer!
After finishing college in Flagstaff, I moved down to Phoenix and landed my first job at a middle school. I spent 5 years there teaching grades 6-8 and enjoyed their spunky personalities and excitement for science.
After my husband and I moved to a different part of town I wanted to find a school closer to home and transitioned to a high school where I'm currently teaching. I have taught physical science, biology, earth and space science, and sustainability at the high school level and love preparing students for college.
I'd love to share my knowledge with you!
If you'd like an occasional email sent to your inbox with science teaching tips, freebies, and new resources I've come across, drop your email address below!