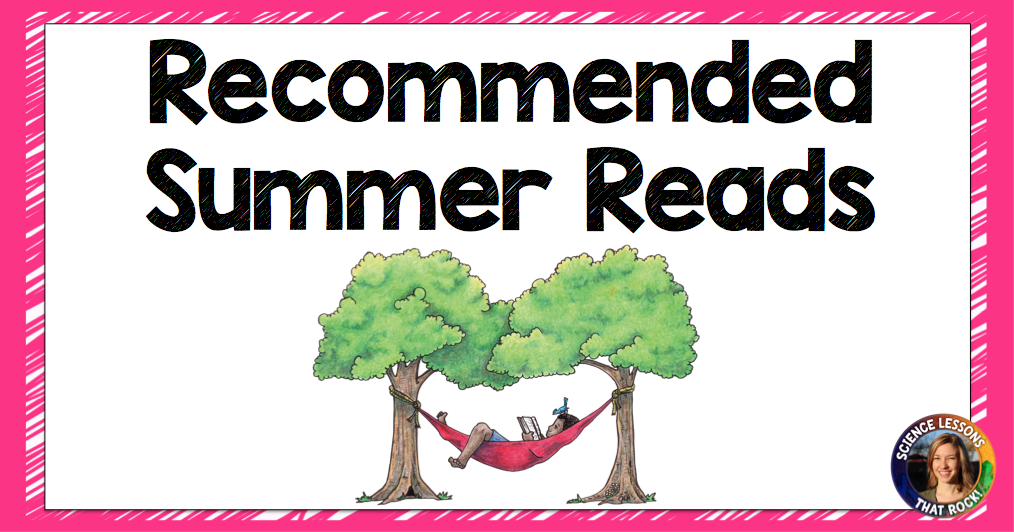 It's summertime and you FINALLY have time to sit down and read a book! It seems like during the school year I lay down at night, grab a book, and fall asleep after 2 pages. I love to read, but teaching is exhausting and I just can't get much reading done. Now that it's summer I have quite a few books I want to get through. I thought I would share my top 5 favorite science books with you!
Disclaimer: While I realize as an adult I should enjoy reading non-fiction, I generally have a hard time getting through them. I much prefer fiction novels that I can read quickly and don't have to sit and digest the all that information (that sounds childish, I know). That being said, the books listed below are books full of science content, but read more like novels. I think this is something to keep in mind when you recommend books to your students.
(Hyperlinks below are affiliate links).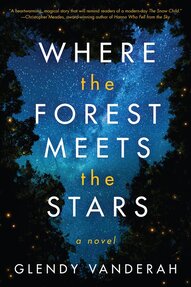 Favorite Novel:
Where the Forest Meets The Stars
is a novel about an ornithologist grad student who is staying out in the country doing her research. A child named Ursa shows up on the property clearly in need of food and shelter. This book pulled on my heartstrings. I loved all the characters, the ecology themes, and the easy writing style.
Already read this book? Where the Crawdads Sing has a similar vibe!
Favorite Biology Book:
The Immortal Life of Henrietta Lacks
by Rebecca Skloot. This is a true story about
a poor
African American mother and tobacco farmer that developed cervical cancer. At this point in time, scientists had not figured out a way to keep cells alive outside of the body. Henrietta's doctor took a biopsy of her cancer cells, and without her permission sent them to the lab, where her cells miraculously continued to live and grow. Following her death, her "immortal" cells eventually turned into a multi-million dollar industry. Research labs around the world continue to use "HeLa" cells to this day. However, her family didn't learn about the cells until decades later and never received a penny of compensation. This is powerful book that sheds light on the history of the medical research industry and social injustice.
Already read this book? Hidden Figures has a similar theme of social injustice, (although it takes place during the space race- so not biology themed). There is also a young readers edition your students would enjoy!
Favorite Chemistry Book:
The Poisoner's Handbook
by Deborah Blum. In the 1920's in New York City, untraceable poisons were an easy path to the perfect crime. This book teaches about the development of chemical detective work- the ability to detect hidden poisons in the body. Written from the perspective of the Chief Medical Examiner and Toxicologist of NYC, each chapter of this book focuses on a different poison, ranging from carbon monoxide and radium to arsenic. It is written in a way that readers, regardless of chemistry background, can enjoy and understand.
Already read this book? Radium Girls is great as well!
Favorite Astronomy Book:
The Martian
by Andy Weir. Mark Watney is an astronaut that gets stranded on Mars after his crew gets stuck in a Mars dust storm and think he is dead. He has to find a way to survive on Mars, which is virtually uninhabitable, before rescue teams can find a way to save him. This book is fun, witty, and hard to put down. This book is now a major motion picture starring Matt Damon, but I can assure you the book is even better. A young reader's edition is also available.
Already read this book? The Calculating Stars is also a sci-fi themed space book you'd enjoy.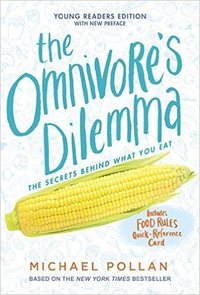 Favorite Environmental Science Book:
The Omnivore's Dilemma
by Michael Pollan. If you've ever taken some time to think about where the food in the grocery store came from and what life was like for the cow before it became the hamburger on your plate, you will enjoy this book. I own both copies of this book- the original and the young reader's edition, and found the young reader's edition easier to get through (shocker, I know). This book is engaging and relatable to students, and will force them to reflect on what they eat and the impact it has on the environment.
Already read this book? The Serengeti Rules is another interesting book!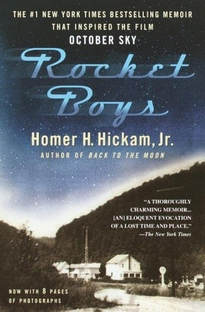 Favorite Book Overall:
Rocket Boys
by Homer Hickam. (This movie
October Sky
is inspired by this book). When I was growing up I hated to read. In middle school my grandma had this book sitting at her house and I randomly picked it up. From that point I learned that I didn't hate to read, I just hated all the books I had been forced to read. This book is a memoir written by a boy raised in a small coal-mining community. While the majority of boys accepted the fact they would grow up and work in the mine, he had dreams of rockets and going to space. Inspired by his high school science teacher Ms. Riley and with some help by his begrudging father, he builds rockets with his friends and enters the science fair. It will make you laugh and make you cry, but overall will inspire you to shoot for the stars (both literally and figuratively).
As a kid I loved that when I read this book for the first time I related to the main character Sonny, and as I have grown up I feel like I can relate to his teacher Ms. Riley. This book has grown with me and I love it as much now (after a dozen reads) as I did when I was in middle school. If you enjoyed this book, there are 2 more books that follow in the series. (Side Note: I have a personally autographed copy of this book, and if my house ever burns down, this book is coming out with me!)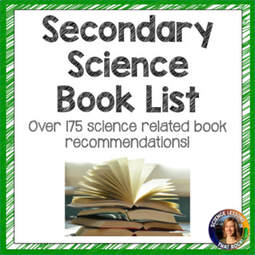 As adults most of us like to read, but it can be difficult to get your students to put down the phone and pick up a book. Here are a few tips that might help:
1. Keep books in your classroom that students can check out, and don't just let them sit on the shelf. Pitch the books to them! They will be more likely to pick up the book if you give it a glowing recommendation.
2. Meet with the ELA teachers in your grade level and see if they can incorporate a novel with science content into their curriculum. They will likely be more than willing if you promise to help keep students engaged and tag-team the content.
3. Bribe them. I know that sounds horrible… but it can work. Offer extra credit to students that read a science novel on their own time and write up a book report. I make sure they know my feelings won't be hurt if they don't like the book in the end. When I was in high school I think I felt pressured to read the assigned book and write an essay about how great it was. That was what my teacher wanted to hear, right?! (I wish I could have turned in an essay about all the reasons I hated Animal Farm… but I digress). Anyway, sometimes students just don't know what type of books to pick up. I created this list of 175 science books that are listed by content area, lexile and include a synopsis. It should be great for any teacher grades 6-12. Hopefully it will help you and your students find the perfect book. Click on the image to download it!
I hope you have time this summer to kick your feet up, grab a book, and sip your favorite drink! Enjoy some well deserved R&R!