Even though I have taught life science most of my career and not physical science, I still feel it is important for students to understand polarity and electronegativity. If students don't understand polarity, they won't understand why the cell membrane has a hydrophobic and hydrophilic region. Understanding polarity also helps them understand protein folding and so many other macromolecule concepts. Because of this, I spend time before my cells unit reviewing the periodic table, bonding, and polarity. Here are a list of some resources you may find helpful!
The website Middle School Chemistry has a ton of free chemistry lessons and labs aimed at lower secondary grades, including this one on why water is a polar molecule. You can check out the lab
here
.
Want to add a little coloring to your polarity lesson? Check out this polarity color-by-number activity to give your students a bit of a brain break. You can find it
here
.
This resource is a cartoon called "The Bare Essentials of Polarity" and uses polar bears and penguins to help students visually understand polarity and electronegativity. I use it every year and get so many "ah-ha" moments by the end. You can download the cartoon
here
.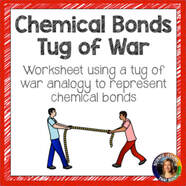 Similar to the cartoon listed above, I created this review worksheet that uses a tug of war as an analogy for polarity. It would be a great homework assignment following your polarity lesson. You can check it out
here
.
If you have access to computers, PHET has a free interactive website where students can play around with and observe the polarity of different molecules. You can access the interactive
here
.
My friend at Science with Mrs. Lau created this free electronegativity reference page you can print and have students keep in their binders. You can download it
here
.
I haven't tried this last lab, but it looks like a blast! Students use food coloring, paper, and shaving cream to make observations about polar molecules. You can check it out
here
.
I hope one or two of those links are useful to you! If you have any other favorites, drop them in the comments, I'd love to check them out!