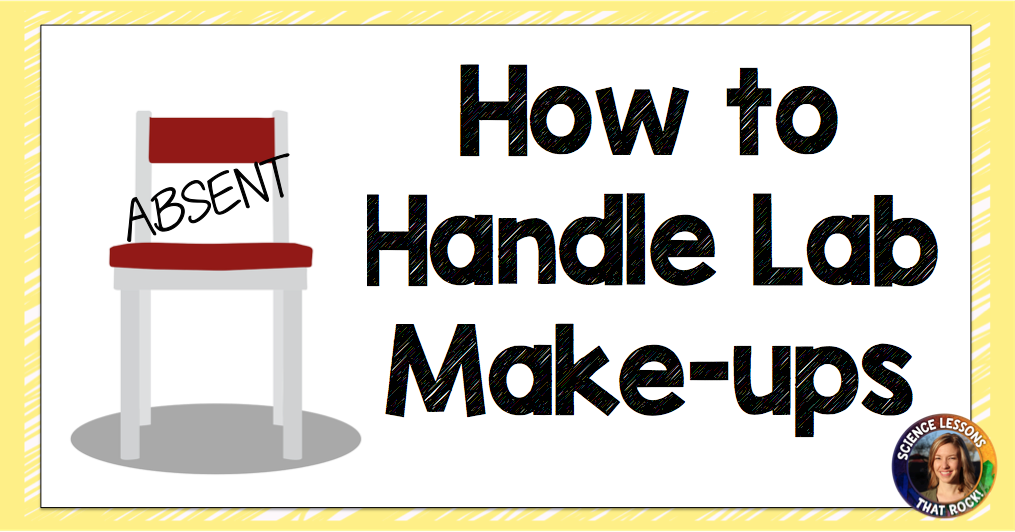 It can be frustrating when students are absent on lab days. You spend a lot of time setting up and often spend money out of your own pocket for supplies. If you are doing labs often or teach multiple preps, dealing with student absences just gets harder to juggle. By the time the student comes back and asks "what did I miss?" I've often torn down the lab or passed the supplies onto another teacher in my department and don't have them available. Instead of scrambling to re-set up the lab every time, here are a few alternative options:
1. DO THE LAB MAKE-UP ON THEIR OWN TIME
If the lab isn't super labor intensive and students can read through the procedures on their own to figure out what to do, I have them come in and make up the lab on their own time. Luckily my school has an advisory period built into the school day where students can travel to get caught up on their classes. If you don't have this luxury, they could come in during lunch or after school.
2. SUBSTITUTE THE WET LAB FOR A VIRTUAL LAB
There are a bunch of virtual labs out on the internet that you could substitute for the wet lab. Phet or Glencoe are great options to check out.
3. COPY THE LAB DATA FROM A PEER AND ANSWER THE ANALYSIS QUESTIONS
This option is my go-to for labs that take multiple days. If students missed the first day of experimental design or data collection, they can come back in, join a lab group, and finish the lab. If it was a one day lab, you can have a "master copy" of data that absent students can copy down and analyze before answering the post lab analysis questions.
4. DO AN ALTERNATIVE ASSIGNMENT ON THE SAME TOPIC
If you can't find a virtual lab on the same topic, try and find an article or worksheet on the same topic and use that assignment to replace the lab grade. Newsela is a great place to find free non-fiction articles. Don't forget to look for freebies on TpT! (type in the topic you are looking for and filter by grade and cost).
5. EXCUSE THE ASSIGNMENT
I would like to begin with a disclaimer that this is NOT something I do regularly. I think students need to somehow show proficiency on a standard, not just get it excused. However, if a student tells you they were absent for a week because they were in the hospital or had a true family emergency that you can verify, sometimes they just need to be cut a break. Realize they will have missing assignments from 6 other classes on top of yours, pick which assignments you think are vital for mastering the standard, and excuse the rest.
The moral of the story: Don't lose your sanity trying to have every absent student do make up labs.